Muff Couplings
Size range: DN50 to DN300
Muff Couplings for Muff Hose connections supplied nationally across Australia. Available with free delivery Australia wide*.
Muff Couplings are available in Cast Aluminium only. Flange options include Table D, Table E and ANSI 150LB flanges.
Rated to 7 Bar working pressure equivalent to 700kPa. Available in size range DN50 to DN300.
Call us on 1300 271 290 for more information.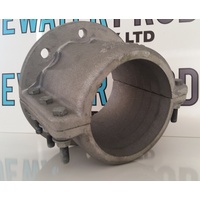 Muff Couplings Aluminium Table D/E
Size From: 50mm to 300mm
Body: Aluminium
Pressure Range: 0 - 10/16 BAR
A muff coupling is to be used on muff coupling hose, to join two hoses together. The muff coupling is a split two piece design with nuts and bolts on the outer sides. The muff coupling has a flanged end, which is fitted at the end of a hose. Flange options are Table D, Table E or ANSI 150LB. The muff coupling is manufactured to be a heavy duty coupling, robust, sturdy and to last in harsh mining environments. With superior material quality for longevity and corrosion resistance, the muff coupling is a trusted product to perfom well on Australian mine sites. The muff coupling fits to major brands of smooth material muff hose.
The working pressure of the muff coupling is 7 Bar equivalent to 700kPA. This is adequate for the rating of the muff hose and low pressure of slurry being transferred.
The coupling features an internal barbed rib system, which grips around the hose by tightening the nuts and bolts on the outer sides. When fitting the coupling to the end of the hose, there is no requirement for any lining up with any grooves. Always ensure the correct flange spec is ordered, to avoid any installation headaches. The coupling comes fully assembled.
Muff couplings are mainly used on hoses for slurry transfer and the transfer of wet abrasive materials. When installing use soapy water for lubrication. It is recommended to tighten the nuts and bolts alternately on each side, side to side, like when fitting a car wheel. Do not tighten one side first and then move to the next side, this will not grip onto the hose correctly. After installing the coupling, you may have some rubber muff hose and wire sticking out past the end of the flange, this must be removed using a long bladed knife and bolt cutters. The flange should be able to mate up to another flange with no interference. Cone ring gaskets are recommended when joining two hoses together.
We supply Muff Couplings to customers all over Australia, to places such as Perth, Adelaide, Darwin, Melbourne, Sydney, Brisbane, Hobart and more.