Float Valve products are available with free delivery Australia wide*. We supply float valve products to customers in Perth, Adelaide, Darwin, Melbourne, Sydney, Brisbane, Hobart and more.
We sell Float Valves for high flow rate applications from 3 Litres per second, to 356 Litres per second. A float valve is a flow control valve using a float mechanism to maintain the level of fluid in a tank, sump or hopper. When the fluid level is low, the float ball will drop opening the valve to allow fluid to flow through into the tank, sump or hopper. More importantly the float valve is always installed so that when the level rises to a high level the float ball is pushed up which closes the valve and stops fluid from flowing.
Contact us for more information.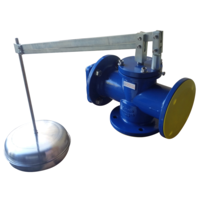 Float Valve - Direct Acting Lever Operated - Flang
Size From: 50mm
Body: CI/316SS
Pressure Range: 0-16 BAR
From $1,799.00
Float Valve - Hydraulically Lever Operated - Flang
Size From: 50mm
Body: CI/316SS
Pressure Range: 0 TO 14 BAR
From $3,340.00
The float valve is designed to be economical using a ductile cast iron body epoxy coated to RAL 5005, with 316 stainless steel and bronze internals, yet being robust and corrosion resistant for longevity. The direct acting float valve has a full bore design, with a strong lever arm in stainless steel. Internally the valve has a robust mechanism to reduce maintenance operations. The valve is designed to withstand rigorous treatment with a high level of performance for shut off and flow. Set the height of the float using the adjustment feature on the vertical arm joining the lever arm.
The valve has self cleaning piston technology which reduces maintenance. The valve is an equilibrium, single seat upstream pressure balanced control float valve. The valve essentially has three positions of operation, open, closed and somewhere inbetween. The valve has been designed to work even at low pressure and with no transient effects. The most important design function of a float valve is to shut off fluid supply when the maximum level of fluid is in the tank.
The valve is direct acting meaning that it self operates without the requirement for a power source or operator. It has a three way body design, angle or globe pattern, just place the blind flange at the desired outlet. The valve has an interchangeable sealing seat and piston.
It is a good idea to install a Y strainer or Basket Strainer before the float valve to prevent dirt getting to the valve.
Care must be taken when installing and setting up the float valve for operation, ensuring that the maximum fluid level is set below the tank overflow, otherwise the tank will still overflow even with a float valve installed.
Applications for a float valve include water distribution systems, fire protection storage tanks, irrigation systems, and whenever the constant level regulation and control function is required.