Twin Sphere Rubber Expansion Joint FTF
Size range: DN32 to DN750
Twin Sphere Rubber Expansion Joints are available in Australia with free delivery*. Supplying Perth, Adelaide, Darwin, Melbourne, Sydney, Brisbane, Hobart and more.
The twin sphere model allows piping to have more expansion, compression and angular movement compared to the single sphere model.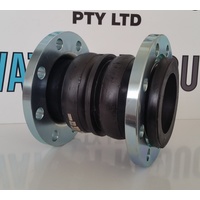 Twin Sphere Rubber Expansion Joint FTF with Table
Size From: 32mm
Body: Zinc/EPDM
Pressure Range: 0 TO 16 BAR
Available in sizes from DN32 to DN750
Pressure ratings from 7.5 Bar to 16 Bar, with high pressure options available on request. It is a moulded design, with reinforcement.
The twin sphere rubber expansion joint is also known as a flexible joint and rubber bellow. It has two spheres working as a pair hence the name twin sphere. It can be installed and used on both suction and discharge piping. The purpose of the rubber expansion joint is to reduce piping stress, take up pipe misalignment, allow for axial compression and elongation/extension, reduce noise and vibration in the area where the piping is located. They also absorb water pulsation and minimize water hammer. The twin sphere model allows for greater movement results than a single sphere model, enabling customers to achieve a solution when a single sphere bellow cannot provide enough movements.
The twin sphere model is a moulded design made from heat resisting synthetic elastomers. Installed with floating flanges that fit into the rubber ends, this is acheived by a machined groove in the flange. Standard flanges will not work, they need to have a groove machined out of the flange. No gaskets are required when installing a rubber expansion joint.
Sphere type rubber expansion joints are not capable of absorbing more than one movement at a time. For exampe if there is a compression movement at the same time as a torsional twist, the joint is not designed for this, and will likely fail. Contact us if your application requires a rubber expansion joint to have two movements at the same time, and we will find a solution.
The bellows are reinforced with tough nylon fibre throughout for added strength, and on each end where the flange fits into the rubber there is a cord with high tensile strength for rigidity, so that the working pressure can be acheived.
Material options are EPDM, NBR, Neoprene, Viton, Buna Nitrile, Hyperlon, Natural Rubber. Food grade: White.
WRAS approval on EPDM rubber suitable for potable water.
Liner options are PTFE Lining, Metal Lining.
Flange specification options are Table D, Table E, ANSI, BS, JIS, DIN.
Flange material options are Carbon steel zinc plated, Galvanised steel, 304 stainless steel and 316 stainless steel.
Size options are in the range of DN32 upto DN750.
Other options include Vacuum rings when negative pressure is greater than 600mm H.g, control rods/tie rods to prevent excessive movements, and external covers.
Pressure ratings are 7.5 Bar to 16 Bar. With other options available on request.
Different overall lengths are available on request.
Rubber bellows will suit a wide range of industries such as Petrochemical, Power generation, marine/shipping, waste water treatment plants, mining and de-watering, industrial piping/processes, heating and ventilation systems.
Contact us for more information.