FSF Single Sphere Rubber Expansion Joint supplier in Australia
FSF Single sphere rubber expansion joints available with free delivery Australia wide*. Supplying customers in Perth, Adelaide, Darwin, Melbourne, Sydney, Brisbane, Hobart and more.
The single sphere model of rubber bellow is the economical model, cheaper than arch models, still providing good expansion, contraction, angular movement and vibration elimination for what they cost.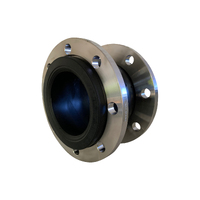 316SS Flanged FSF Single Sphere Rubber Expansion J
Size From: 32mm
Element: EPDM/316 Stainless Steel flanges
Pressure Range: 0 TO 16 BAR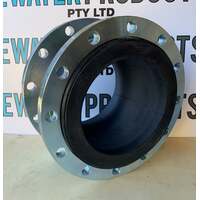 FSF Single Sphere Rubber Expansion Joint fitted wi
Size From: 32mm
Element: EPDM/Zinc plated flanges
Pressure Range: 0 TO 16 BAR
Available in size range DN32 - DN600.
The single sphere rubber expansion joint is also known as a flexible joint or rubber bellow. It is manufactured as one moulded spherical piece, hence the same single sphere. The FSF spec is the Australian spec of rubber expansion joint, nationally recognised as being a decently sized sphere, not being too wide, and not being too narrow. It can be installed on both suction and discharge pipes. Please ensure that negative pressure does not exceed 600mm H.g otherwise a vacuum ring needs to be inserted. If the rubber joint still doesn't cope well with a vacuum ring installed, then another model of rubber expansion joint is required such as a single filled arch rubber expansion joint, shown on our website.
The single sphere bellow is very common because of its low cost and flexibility for a pipe. Manufactured from heat and chemical resisting synthetic elastomers. Designed to only allow for one movement at a time, such as compression, extension/elongation, angular movement. If multiple movements happen at the same time, this model of bellow will fail, and another model needs to be selected. Please contact us with any questions over the selection of the correct rubber expansion joint.
Material options include EPDM, Neoprene, NBR, Viton, Buna/Nitrile, Hyperlon, Natural rubber, Food grade white.
WRAS approval on EPDM rubber for potable water use.
Lining options include PTFE lined and metal lined, contact us for details.
Size range DN32 upto DN600. Larger sizes available in different models, contact us for details.
Other options are vacuum rings for applications where a negative pressure is greater than 600mm H.g, control rods/tie rods for applications where excessive movements are likely to occur, and external covers.
Flange specification options are Table D, Table E, ANSI, BS, JIS, DIN.
Flange material options are Carbon steel zinc plated, galvanised steel, 304 stainless steel and 316 stainless steel
Pressure range 7.5 Bar to 16 Bar, high pressure models are available on request.
Rubber expansion joints will suit many Industrial applications such as pumps and de-watering, mining, power generation, marine/shipping, waste water treatment plants, air conditioning, industrial air compressors, refrigeration, blowers and more.
Contact us for more information.