Flanged Suction Strainers are available with free delivery Australia wide*.
The flanged suction strainer is a high flow and non-restrictive strainer screen, providing more design options for high flow applications compared to a common foot valve. The flanged suction strainer can also be manufactured to suit any flange size and flange specification.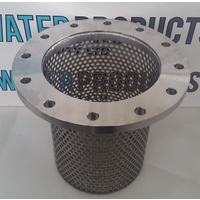 Flanged Suction Strainer - 316 Stainless Steel - F
Size From: 50mm
Body: 316SS
Pressure Range: N/A
Mesh: 10mm other options available
From $709.50
The flange suction strainer can still be bolted to a flanged check valve for the foot valve feature, but compared with a common foot valve, it's available in much more aperture size options for high flow pumps.
The flanged suction strainer is typically connected to a de-watering hose to protect the pump from damage by preventing large debris being sucked into the system. Installed at the pick-up end of the suction hose or pipe. The suction strainer is the first line of defence in terms of protecting your pump system. It will stop any particles which are larger than the aperture size in the screen from entering the suction line.
Manufactured from 316 stainless steel to ensure longevity. Many aperture sizes available. Contact us for more information.
The flanged suction strainer can be manufactured to suit many sizes and in particular large flange sizes over 600mm.