Butterfly Valves CF8M, PTFE, Viton, fully encapsulated
Butterfly valves are available with free delivery Australia wide*. We supply Butterfly Valves to all cities in Australia, Perth, Adelaide, Melbourne, Sydney, Brisbane, Darwin, Canberra and Hobart.
We specialise in high end Butterfly Valves with a CF8M cast 316 stainless steel body, and fully PTFE lined Butterfly Valves.
An economical flow control valve which can be used in most applications. Contact us for more details.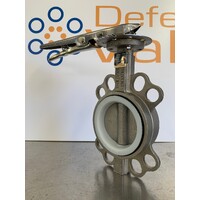 Butterfly Valve - 316 Stainless Steel CF8M body -
Size From: 50mm
Body: 316ss/EPDM/PTFE
Pressure Range: 0-16 BAR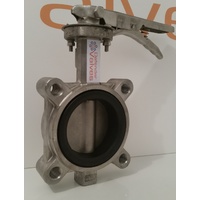 Lugged Butterfly Valve - CF8M 316 Stainless Steel
Size From: 50mm
Body: 316ss/EPDM/PTFE
Pressure Range: 0-16 BAR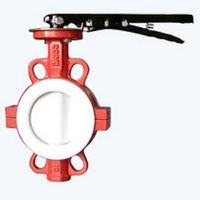 PTFE Lined Butterfly Valve - Universal Wafer
Size From: 50mm
Body: DI/PTFE
Pressure Range: 0-10 BAR
Butterfly valves are available in a lugged or wafer design to suit different applications and flange specifications. Lever operated, larger sizes with gearbox operation, and actuators available on request.
Butterfly valves are Bi-directional and blow out proof. Zero leakage flow control valves.
The butterfly valve is a valve with a strong mechanical design having a solid valve stem run from the top of the valve all the way to the bottom of the valve. The valve stem fits through the centre of the valve disc, which turns the disc to the open or closed position from the centre. When a butterfly valve is in the open position, the disc is always in the path of the flow, so the strength of the design is very important. The design of the butterfly valve disc opening and closing also results in low pressure drops compared to some other valve types.
Stainless Steel Body - Butterfly Valves
A butterfly valve with a CF8M cast 316 stainless steel body will provide many years of service and will not corrode in some corrosive environments where a cast steel body would. Ideally suited to the Marine and Mining industry and some Chemical industries. Pressure ratings for the valves are 0-16 Bar, depending on the size.
We can also supply Butterfly valves with a VITON rubber seat, and also VITON with an outer PTFE lined seat.
PTFE lined - Butterfly Valves
PTFE lined butterfly valves which encapsulate the 316 stainless steel disc, and rubber seat, fully encapsulate all parts to protect them from chemical corrosion and high temperature damage. All surfaces that would normally come into contact with the media, are protected by the PTFE teflon surface. PTFE linings are also replaceable. Pressure ratings for these valves are 0-10 Bar.