Duckbill Check Valves available with free delivery Australia wide*. Available in different styles such as Slip on, Flanged and Inline. Duckbill valves are a check valve installed to prevent back flow. We sell 3 different types of duckbill check valves. The slip on model which is fitted over the top of the end of a plain ended pipe and secured on with a stainless steel clamp. The flanged duckbill check valve will connect onto the end of a flanged pipe spool. The inline duckbill check valve fits inside a pipe and is not visible from the outside.
General size range DN50 - DN2400.
Contact us for more information.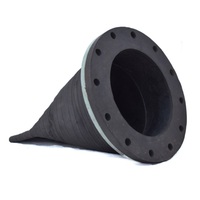 Duckbill Check Valve - Flanged Table E - EPDM
Size From: 50mm
Body: EPDM/316ss
Pressure Range: 0-16 BAR
From $365.00
Duckbill Check Valve - Slip On - EPDM
Size From: 88.9mm
Body: EPDM/316ss
Pressure Range: 0 - 16 BAR
From $399.00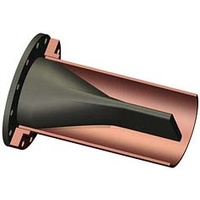 Inline Duckbill Check Valve - EPDM - Table E
Size From: 50mm
Body: EPDM
Pressure Range: 0 - 16 BAR
From $299.00
Duckbill check valves are manufactured from high quality durable rubber. These valves are incredibly reliable compared with older style flap gate valves. Rubber duckbill check valves protect the environment from flash floods and other natural causes of floods. The rubber check valve eliminates maintenance costs due to the versatile inline back flow prevention design. No mechanical moving parts meaning no possibility of corrosion or failure. The duck bill check valve has the lowest head loss of any check valve, enabling the valve to open with very little water, yet closing very easily when required to. The engineered construction allows the valve to open with minimal pressure, and close against a rising tide with no requirement for a power source or manual operation. The rubber used to construct the valve is a flexible elastomer like a truck tire. The valve is designed to have a large sealing area which tighly seals when required to. These valves can typically withstand upto 15 meters of back pressure.
The rubber used on these valves provides continual corrosion resistance, The outer layers repel marine organisms which eliminates marine fouling issues. The design prevents logs or other floating objects from entering the valve closing mechanism, therefore the valve will always close when required to, no matter what the environment may throw at it.
Rubber materials available include Neoprene, EPDM, Viton and more for chemical applications. The duckbill check valve is easy to install and remove either by slipping over the end of the pipe and tightening a couple of fasteners, or by mating with a flange and fasteners. Designed to suit any situation, with custom built solutions.
Applications of the duckbill check valve include storm water, waste water sewage treatment plants, industrial treatment plants, highway runoff's, effluent diffuser systems, residential plumbing applications, wet lands and beach protection and more.
Supplying all across Australia - Perth, Adelaide, Melborne, Canberra, Sydney, Brisbane, Darwin, Hobart.