DB-1 Slip On Duckbill Check Valve
The Slip On Duckbill Check Valve model DB-1 is installed over the end of a plain ended pipe to prevent back flow.
The DB-1 model is a Flat bottom model, with a flared top to enhance flow rates and reduce head loss.
Curved Bill features:
The Curved Bill model provides 50% more sealing area compared to the straight bill ended duckbill check valve, enabling a better tighter seal when debris are present. 25mm of fluid/water is all it takes to open the valve.
Measure the Outside Diameter of your pipe to select the size you need. - Product sizing is dependant on the OD of your pipe.
- Available in a wide range of sizes. 88.9mm to 2550.0mm.
- Available in different rubber materials such as Neoprene, NBR, EPDM, Viton etc - contact us for a quote.
- 12 months warranty on manufacturing defects only.
Be The First To Review This Product!
Help other Dewater Products Pty Ltd users shop smarter by writing reviews for products you have purchased.
Others Also Bought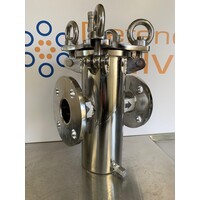 Simplex Basket Strainer 316 SS - Flanged AS4087 PN
Size From: 50mm
Body: CF8M/316SS
Pressure Range: 0-16 BAR
Mesh size: 3mm other options available
More From This Category