Duplex Basket Strainer supplier in Australia
Duplex Basket Strainers are available with free delivery Australia wide*. We supply Duplex Basket Strainers to all cities in Australia, Perth, Adelaide, Melbourne, Sydney, Brisbane, Darwin, Canberra and Hobart.
We are a professional supplier and distributor of Duplex Basket Strainer products in Australia. Contact us for more information on our Duplex Basket Strainer product range.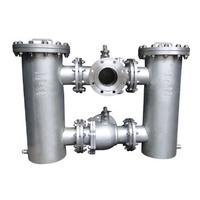 Duplex Basket Strainer 316SS fitted with 3 way fla
Size From: 50mm
Body: 316 Stainless Steel
Pressure Range: 0-20 BAR
Mesh: 3mm other options available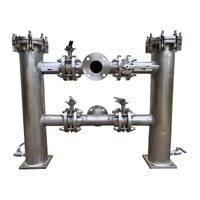 Duplex Basket Strainer 316SS fitted with SS butter
Size From: 50mm
Body: 316 Stainless Steel
Pressure Range: 0-16 BAR
Mesh: 3mm other options available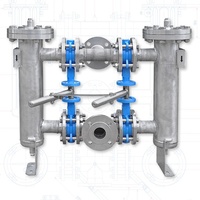 Duplex Basket Strainer Carbon Steel fitted with DI
Size From: 50mm
Body: Carbon Steel/DI/EPDM
Pressure Range: 0-16 BAR
Mesh: 3mm other options available
Size range DN25 to DN300
- For constant flow applications when flow cannot stop.
- Two seperate filter chambers that can operate independently.
- Diverter design
Facts about Duplex Basket Strainers:
The duplex basket strainer is a double strainer system also known as a twin basket strainer.

Excellent filtration capability.

Used on both suction pipes and discharge pipes, for both vacuum and positive pressure applications.

Designed to have a large open area percentage ratio which minimises pressure drop and head loss. The larger the strainer, the longer the run time is between cleaning the baskets.

This design allows for both strainers to operate at the same time, and also having the option to close one strainer off for maintenance and still having the remaining strainer allowing flow through. Therefore allowing a pipe system to have no down time.

These are excellent strainer systems for when the user still wants to keep flow going even for when maintenance is required.

Ideally suited for high maintenance applications, where regular emptying of the strainer basket is required and the requirement to still keep flow going.

Can be manufactured from 316 stainless steel, and Carbon Steel.

Many different flange connection options available, such as AS2129 Table D, Table E, ANSI Class 150, AS4087 PN16 and more.
General information about Duplex Basket Strainers:
Flow is diverted from one strainer to another strainer by using the isolation valves. Valve options are Ball valves, 3 way Ball valves or Butterfly valves.
The valves have an excellent 100% seal with zero leakage, so that the filter to be cleaned does not have a leakage when being cleaned. The valve needs to be closed off on the side of the system which is being shut off for cleaning.

Collect debris and unwanted objects into your basket strainer to reduce down time and maximise process efficiency.

No special tools are required for maintenance.

Suit fluid handling applications such as Petrochemical, Oil and Gas, Mining, Cooling water, Compressors, Condensors, Fire lines, Lubrication systems, Salt water and Fresh water systems.

Low pressure and high pressure duplex basket strainer options available.

Any mesh size available on request. Internal mesh filter material is 316 stainless steel.

Body material options are 316 stainless steel and Carbon steel.

Options are Differential Pressure Gauge, Quick Open Covers, Special coatings internally and externally.

Customised solutions to suit your application.

A duplex basket strainer design depends on the flow rate, operating temperature, working pressure, particle density, filtration size, viscosity and type of medium.
The purpose of Duplex Basket Strainers:
Duplex Basket Strainers have a high volume capacity for the removal and storage of unwanted filtered dirt and debris in a pipe system.

Two strainers work independantly, one strainer can operate with the other strainer closed and on stand by.

Easy to operate, install and maintain with basic valve operation, bolt fastening and cleaning.

Installed in a pipe system to purify oil, water and gases.

Duplex Basket Strainers suit high maintenance applications where flow cannot stop. When down time is not an option.

Can handle a flow rate of 25 litres per minute up to 15000 litres per minute.

Working pressures up to PN32 - 3200 kPa - 320 meters of water.

Similar to brands such as Titan, Eaton, Oxford, Hellan.

The pipe system never needs to stop when a duplex basket strainer is installed and well maintained in sequence. Never any down time.

For customers that want an uninterrupted flow system.
How to service and maintain a Duplex Basket Strainer:
It is important to note that a duplex basket strainer will only ever perform well, when it is maintained and serviced well. If poor maintenance and servicing occurs, the Duplex Basket Strainer will not perform at its best, and could result in preventable down time.

Duplex Basket Strainers are easy to service and maintain as there are not many parts. Parts include the 2 x strainer bodies, at least 2 x isolation valves depending on the model, 2 x internal basket filters, 2 x gaskets for the top lids, and nuts and bolts for the top lids.
If the Duplex Basket Strainer has been used in a way that keeps 1 x strainer closed and on stand by, ensuring that the internal filter has been cleaned, the operator needs to move the isolation valve(s) to divert the flow into this stand by strainer.

During this process, closing the isolation valve(s) on the full strainer which needs to be serviced. This can be acheived on 3 way ball valves with one turn on the lever or handwheel.

If your Duplex Basket Strainer has 4 x Butterfly valves you will need to close the 2 x butterfly valves on the full strainer side to be serviced, and open the 2 x butterfly valves on the stand by side of the strainer to divert the flow. It is important on the butterfly model of duplex basket strainer to open the stand by strainer valves first, before closing the full strainer side, to ensure the system remains in operation with no down time.

Now that the flow has been diverted to the clean side of the strainer system, and the isolation valves are closed on the dirty full side of the strainer, it is now safe to start loosening the nuts and bolts on the top lid, so that the top lid can be removed, so that the dirty internal filter basket can be removed for cleaning.

Once the top lid on the dirty strainer side of the strainer has been removed, you will likely see that the internal filter basket is very dirty and full of dirt and debris. It is time to pull out the internal filter basket, and empty the contents into a suitable bin or storage container.

Use a rag or water hose to clean out the filter basket, and check the filter holes are not clogged up. It may even be more suitable to submerge the internal filter basket in a cleaning fluid depending on your specific application.

Remove the drain plug at the bottom of the strainer body and clean out any debris at the bottom of the strainer body, before installing the cleaned internal filter basket.

Now that the strainer body has been cleaned internally, fit the drain plug back in, ready for operation.

Install the internal filter basket back into the strainer body.

Fit the lid ensuring the gasket is installed correctly.

Finally tighten the nuts and bolts on the top lid, ready for operation.

Keep the cleaned strainer on stand by until the other strainer on the other side has filled up.
Available in many options, it is best to contact us for more information.
Duplex Basket Strainers are available in sizes DN25, DN40, DN50, DN65, DN80, DN100, DN125, DN150, DN200, DN250, DN300.