Flanged Ball Valves are available with free delivery Australia wide*. We supply Flanged Ball Valves to all cities in Australia, Perth, Adelaide, Melbourne, Sydney, Brisbane, Darwin, Canberra and Hobart.
We are a professional supplier and distributor of Flanged Ball Valves in Australia.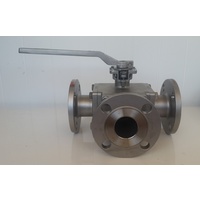 Ball Valve - 3 way T or L Port - 316 Stainless Ste
Size From: 50mm
Body: 316ss/PTFE
Pressure Range: 0-20 BAR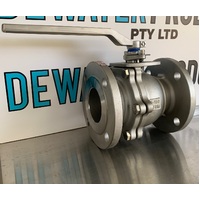 Ball Valve - Flanged ANSI 150LB
Size From: 50mm
Body: 316ss/PTFE
Pressure Range: 0-20 BAR
Facts about Flanged Ball Valves:
Flanged Ball Valves are a good flow control valve which are operated by a lever to turn the internal ball from an open position to a closed position.

Available as a straight through valve, or a 3 way ball valve which can divert flow in two directions.

The flanged ball valve in a 316 stainless steel body, with a 316 stainless steel stem, 316 stainless steel ball, and teflon trim, ensures a long lasting valve for corrosive applications.
The flanged ends, full bore and with a 2 piece body construction, keep the design simple yet effective for flow control.
General information about Flanged Ball Valves:
The valve is essentially a ball shape with a hole through the middle, and the valve body encases the ball. This is a clever design and helps acheive high pressure ratings compared to other valves such as 40 Bar.
Manufactured from an Investment Cast Body, with a blow out proof design.
The handle located at the top of the valve body needs to be turned to either open or close the valve ball internally, connected via a 316 stainless steel valve stem.
A 316 stainless steel stem in a ball valve is absolutely necessary to ensure that the stem doesn't sieze up or corrode and fail. A 316 stainless steel stem ensures that over a long period of time, the handle operation will always open or close the valve.
Three way ball valves come with an L or T port. PTFE and Reinforced PTFE teflon trim is common.
Fire safe ball valves are available on request, with fire safety approval.
Water marked ball valves are available on request, with water mark approval.
Different flange specifications are available on request such as ANSI Class 150, Table E AS2129, Table D AS2129, AS4087 PN16 and more.
Optional extra's include riser extension, gear box, actuator and lockable handle.
The purpose of a Flanged Ball Valve:
The Flanged Ball Valve is very effective at forming a tight seal compared to other valves like a gate valve, therefore some would say more reliable than a gate valve.
The ball valve is used for shut off and flow control, and can be opened and closed immediately which reduces water hammer.
Care must be taken not to leave a ball valve slightly open in operation, as the valve seats will be destroyed in this position.
It is easy to know whether a ball valve is open or closed by looking at the position of the handle. When the handle is straight with the pipe and valve, this means the valve is open. If the handle is perpendicular to the pipe and valve then the valve is in the closed position.
The flanged ball valve is designed to have a short overall length otherwise known as the face to face dimension.