Flanged Gate Valve - 316 Stainless Steel
Flanged Gate Valves in 316 Stainless Steel available with free delivery Australia wide*. We supply gate valves to all cities in Australia, Perth, Adelaide, Melbourne, Sydney, Brisbane, Darwin, Canberra and Hobart.
The gate valve with a CF8M 316 stainless steel body is a robust isolation valve and when metal seated can be used for hard wearing and demanding applications.
Contact us for more information.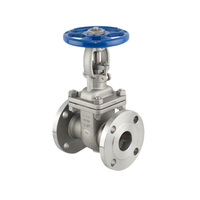 Gate Valve - CF8M 316SS - ANSI 150LB
Size From: 50mm
Body: CF8M/316SS
Pressure Range: 0 - 20 BAR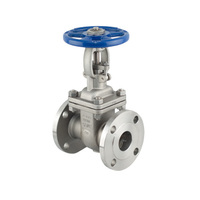 Gate Valve - CF8M 316SS - Table E
Size From: 50mm
Body: CF8M/316SS Table E
Pressure Range: 0 - 20 BAR
Flanged connections to either AS2129 Table E or ANSI Class 150LB.
Full bore size meaning the nominal bore of the valve matches that of the pipe allowing a full and non-restrictive flow.
The valves are unidirectional and hand wheel operated, with a rising stem.
Hand wheel locks are available on request.
Clockwise or Anti Clockwise close options.
The pressure rating of the valve will suit ANSI Class 150LB, which is approximately 21 Bar or 2100 kPa.
The valves are designed for on/off operation only, with no throttling use. The valve must be fully open or fully closed. Never leave the gate valve half way open as the flow will damage the valve disc.
A gate valve is called such because of the gate shaped disc which moves up and down inside the valve body to either allow flow or shut off flow. The gate disc is attached to the 316 stainless steel valve stem, and is controlled by the turning of the hand wheel in a specific direction.
The gate valve is a commonly used flow control valve where shut off ( valve closure ) is infrequent. Meaning the gate valve is rarely closed and left open for the majority of the time.
316 Stainless Steel valves will be suitable for corrosive media, and for longevity. Suitable applications such as the Marine, Mining, Medical, Chemical and Refinery industries.
316 Stainless Steel is a corrosion resistant steel with excellent strength and hardness. It's an ideal material when a valve will always be under water or exposed to water or chemicals consistently.