Teekay pipe repair clamp supplier in Australia
Teekay Repair Clamps and Repair Couplings are available in Australia with free delivery*. We supply Teekay Repair Coupling and Teekay Repair Clamp products to all cities in Australia, Perth, Adelaide, Melbourne, Sydney, Brisbane, Canberra, Darwin and Hobart.
We are a professional supplier of Teekay Repair Clamps in Australia. Contact us for more information on Teekay pipe repair clamp products.
Teekay Couplings manufacture a wide range of pipe repair clamps and repair couplings.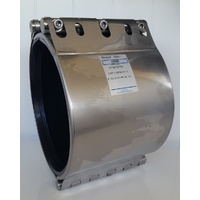 Teekay Repair Coupling Type I, PN16, 210mm wide
Size From: 231.1mm
Body: 304ss/EPDM
Pressure Range: 0 to 16 BAR
From $1,083.00
Two solutions - Repair Coupling model, Repair Clamp model
Size range up to 3000mm OD
Width range up to 410mm wide
Once the clamp has been wrapped around the pipe, the pipe fitter can install the clamp the same way as a pipe coupling using a torque wrench.
No need to turn off the water, as the clamp can be fitted on filled pipelines.
Suitable for emergency repairs of leaking pipes. Stop leaking pipes in 2 minutes and reduce down time.
Light weight stainless steel design, casing material options are 304 stainless steel and 316 stainless steel.
Gasket material options are EPDM, NBR, HNBR, VITON.
Gasket design actively seals onto the pipe.
Applications include Water, Process, Oil and Gas and Marine Industries.
Contact us for more information on pipe repair clamps by Teekay.